Places to Go

Highlands Pass encompasses approximately 500 acres of forested land and saddles the mountain range between two pristine valleys, one to the south and one to the north. The first is Hickory Knoll Valley, and the second is Nickajack Valley. Most of our homesites are blessed with far vistas overlooking the mountains and valleys. Our highest point is Ammons Knob, which sits at approximately 3,900 feet in elevation.

Currently, there are three parks in Highlands Pass - all located on flowing streams perfect for a picnic and other leisure activities. The parks are maintained in a natural state with ample opportunities for wading and watching the spectacular spring waters of Highlands Pass.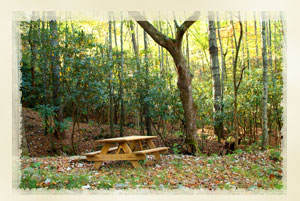 The Twin Ponds join together through two converging mountain streams. Fish feeding is a fun activity at the Twin Ponds, which are stocked with Bass, Redear Bream, Hybrid Brim, Crappie and Catfish that avidly join to say hello when you approach the banks. You can Catch and Release fish at your leisure. The Twin Ponds feature a broad boardwalk with benches for lazy contemplation of the beautiful ponds, and also a stone walk to an over-the-water gazebo to be enjoyed by all.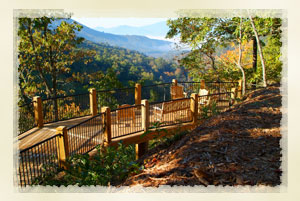 The Overlook will accommodate a number of patrons to view the moonrises, sunsets and southern valley vistas of Highlands Pass. It is a favorite for wine and cheese picnics and for wrapping up in a Highlands Pass blanket to ward off the autumn chill.

Stone Fire Pits are situated in Highlands Pass for true outdoor living. Roast a marshmallow, cook a steak, or just sit and watch the roaring fire. These are favorites for warm and cool weather alike.


Walking and hiking trails ribbon along the streams and through the forest of Highlands Pass. Currently, approximately five miles of trails exist with more to be added in the future. Boones Trail, Wanderers Trail, and Bartram Forest Trail each provide a variety of exciting features, and varying degrees of demand.